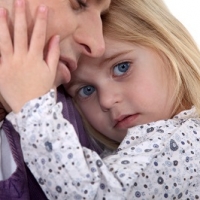 Jonathan and Zoe
July 5, 2017
Jonathan's estranged wife had struggled with mental health issues throughout their marriage. When Jonathan found out she was in the habit of leaving their 3 year old daughter, Zoe, either alone, or with strangers, for several days at a time, he knew Zoe needed to live with him. At the age of 38, he became a single father.
Jonathan's salary was simply insufficient to cover the cost of childcare and rent. He lost his job for excessive absences. He and Zoe moved into a local motel, where there was frequent police activity. With no job and his emergency fund depleted, Jonathan desperately needed help to avoid living on the street with his daughter. He grew increasingly depressed and bitter every time an agency turned him away.
By the time Jonathan came to Vine Maple Place, he was cynical. During the intake interview he told the case manager, 'I don't know why I am even bothering.' Even when he was moving into one of the emergency shelters with his daughter, he was, at best, ambivalent. He couldn't trust what was happening.
In spite of his misgivings and distrust, over the next several weeks, Jonathan worked diligently to complete every task that was assigned to him as part of his individualized service plan. He participated in classes in Employment Development and Financial Training. When he was connected to resources for childcare, his former employer rehired him! His case manager noted, "A few weeks ago I complimented him on his progress and he told me,' I know that you guys are truly helping me.' That was the first time I ever saw him smile!"

Back