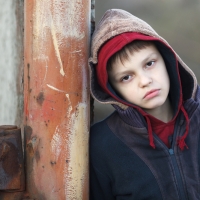 Melanie and Trevor
January 13, 2017
Melanie and her 10-year old son, Trevor, became homeless last fall after a debilitating illness caused Melanie to lose her job at a local retail grocery. She has struggled as a single parent for the past three years. Trevor's father has not been in the picture since he was 7 years old. After losing her job, it wasn't long before Melanie fell into eviction and lost her apartment. With no family in the area, she moved in with a friend to keep them from having to live in her car.

Melanie and Trevor slept on her friend's living room floor in a crowded two-bedroom apartment. Even though she appreciated her friend's help, Melanie's friend had children of her own and was seeing verbally abusive boyfriend. It was chaotic, stressful and unsafe. The boyfriend's temper terrified Melanie and her son.

As the holidays approached, Melanie's anxiety grew and Trevor became more withdrawn each day. Christmas morning was the worst. They felt like intruders, but she had nowhere else to go. "Trevor stayed outside in the cold almost the whole day. It was heartbreaking. I felt like a horrible mother to put him in such a terrible situation. It was one of the worst days of my life."

A few days after Christmas, Melanie got connected to Vine Maple Place by a church friend. She and Trevor moved into an emergency shelter unit while they waited to get re-established in their own apartment. She cried with relief to feel safe for the first time in months. Melanie is excited to start her job search with help from her employment coach and wants to get her Certified Nursing Assistant certificate. Trevor is receiving counseling and is hoping to get matched with a mentor so he can have a positive male role model in his life. This family is on their journey to stability and self-sufficiency.

Back